19 Jul

Thank you Part Time Working Mummy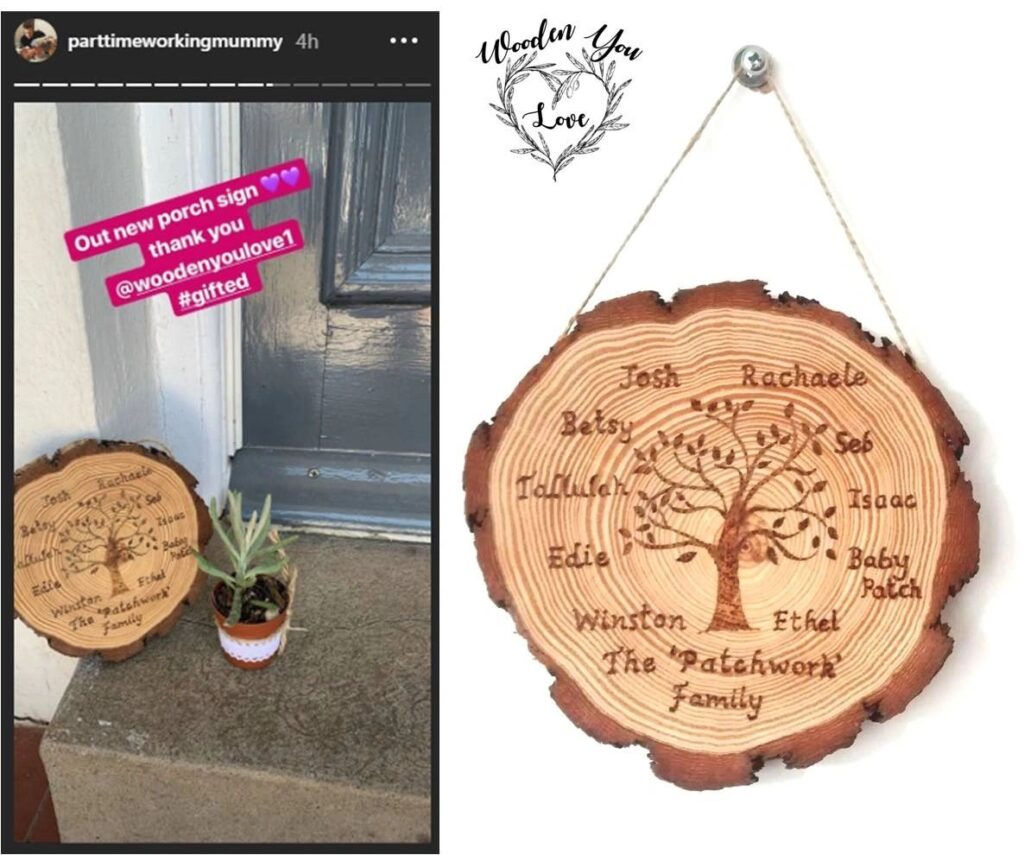 Family Tree Wood Slice share from Part Time Working Mummy on Instagram
Disclosure: Some of the links below are affiliate links, meaning at no additional cost to you, I will earn a commission if you click through and make a purchase
It was just a normal Tuesday and I was on the school pick up run. Suddenly my phone starts pinging away with notifications from Instagram. The one and only Rachaele Hambleton from Part Time Working Mummy had only gone and shared my gift I sent her, in her Instagram stories!
Rachaele is a mummy to five children (currently expecting another) and wife to Josh who is a police officer. She runs a page called 'Part Time Working Mummy' which has grown to be a support network for men, women and children affected by domestic abuse, bullying and post natal depression. Over the years, Rachaele has campaigned with charities and also become a best selling author.
I was given the opportunity to send a gift to Rachaele and her family from fellow SBS Winner, Jodine Boothby from Gummee Teething. Her business was given a well needed boost from Rachaele after she shared Jodine's Instagram stories about the struggles they were having from cheap (and dangerous) imitations of their product. The Gummee Teething brand gained a huge increase in followers and orders.
Jodine wanted to thank Rachaele by sending her some gifts and I leapt at the chance of sending her a personalised family tree wood slice. I decided to call them 'The Patchwork Family' after taking inspiration from her book title. I was amazed when Rachaele posted a picture of it and I can't thank her enough for doing so! You can see a screenshot of the share in the 'Shoutout' highlight section on my Instagram page at  https://www.instagram.com/woodenyoulove1/ 
If you are looking to find out more about Rachaele, then head over to her page at  https://parttimeworkingmummy.co.uk/ 
I would also recommend you read her book 'Part Time Working Mummy – a Patchwork Life' which you can buy on Amazon here – https://amzn.to/2XTVI3Z
If you have a teething little one then I also highly recommend you take a look at 'Gummee Teething' over at  https://www.gummee.life/ . The range of teething mitts and gloves can also be bought on Amazon at https://amzn.to/2SqDW2c
If you would like your own family tree hand burned on a tree slice, then you can order online at  https://woodenyoulove.co.uk/shop-the-range?keywords=family&olsPage=products%2Fpersonalised-family-tree-wood-slice